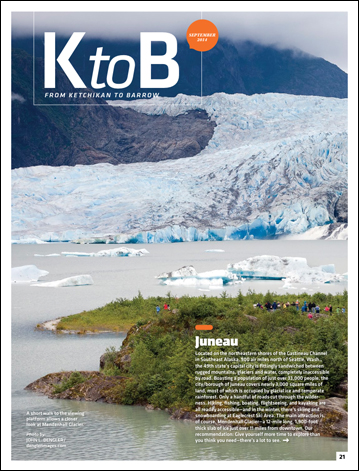 I scored another tearsheet from Alaska "The magazine of Life on the Last Frontier" with the publication of one of my images of tourists visiting the Mendenhall Glacier. The image is nicely displayed as a full page image in the September, 2014 issue. The publication of the image even generated a congratulatory phone call from someone besides my late grandmother who actually read the tiny photo credits.
The photo was taken on one of my Juneau layover days while waiting for the Alaska Marine Highway Ferry for Haines. I always make it a point to head out to the nearby Mendenhall Glacier for a hike and to take photographs. I'm never disappointed no matter what the weather. My favorite activity is to hike the easy to intermediate level trails that lead from either the Mendenhall Glacier Visitor Center or from the parking lot on the west side of Mendenhall Lake. You'll quickly find solitude on the trails once you leave the visitor center area as most of the herd of cruise ship passengers walk out to Photo Point (seen in the photo) or hike the short trail to Nugget Falls. Mendenhall Glacier is a popular spot for cruise ship passengers. It sees over 500,000 visitors a year.
As I have mentioned previously, Alaska magazine, features great photography and stories on the people, cultures, lifestyles, and natural wonders of the state. The magazine can often be found at local bookstores and newsstands. Electronic editions/subscriptions of Alaska magazine for the iPad can be found on the Apple iTunes App Store.
---
Be the first to know
'Like' the Dengler Images Facebook page
or follow my Twitter feed to know when I post iPhone reports from the field.