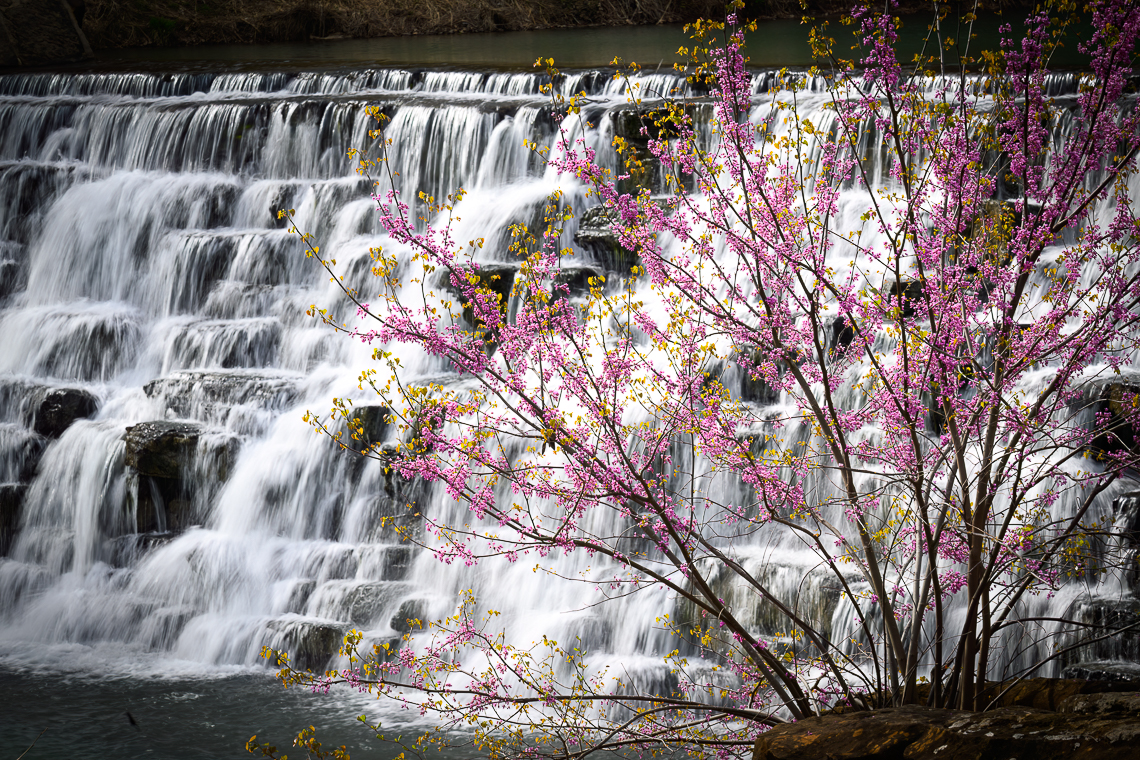 Our dog Blue had such a great time visiting Devil's Den State Park in northwest Arkansas last fall that we thought we would visit in the Spring. None of us, including Blue was disappointed. If this is where the Devil hangs out, then perhaps Hell isn't as bad as people say.
Devil's Den State Park has approximately 64 miles of trails popular with hikers, mountain bikers, and horseback riders. One popular trail is the Devil's Den Self-Guided Trail (1.5 miles long) which passes by Devil's Den Cave (550 feet), Devil's Den Ice Box, numerous rock crevices, and Twin Falls. Another popular trail is the Yellow Rock Trail (3.1 miles) which leads to expansive views of the Lee Creek Valley.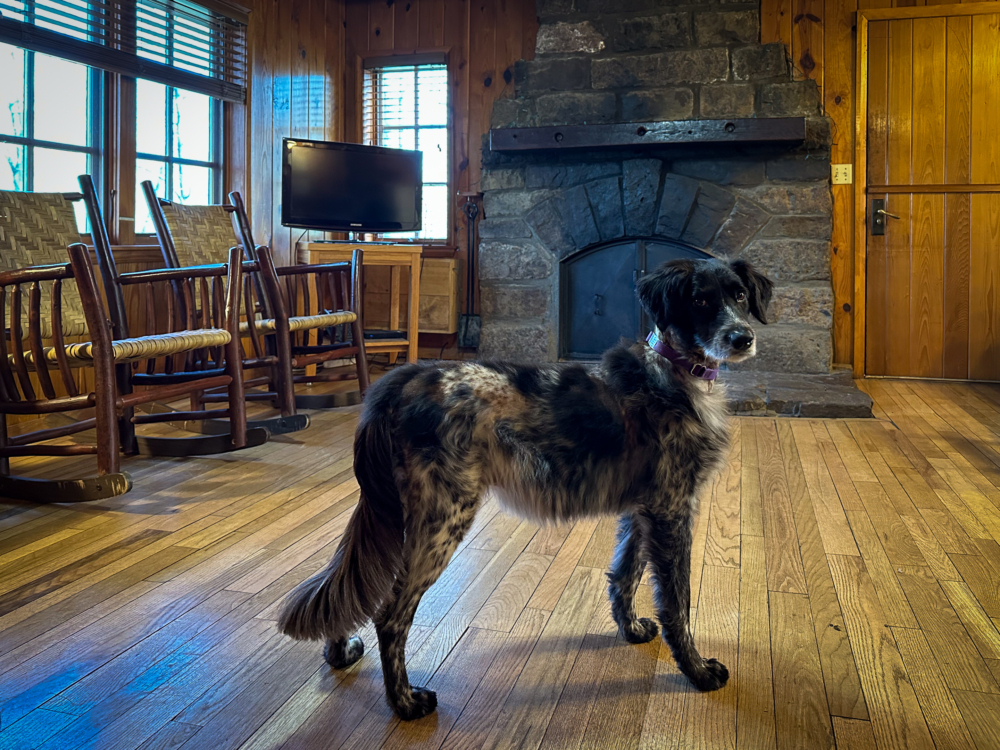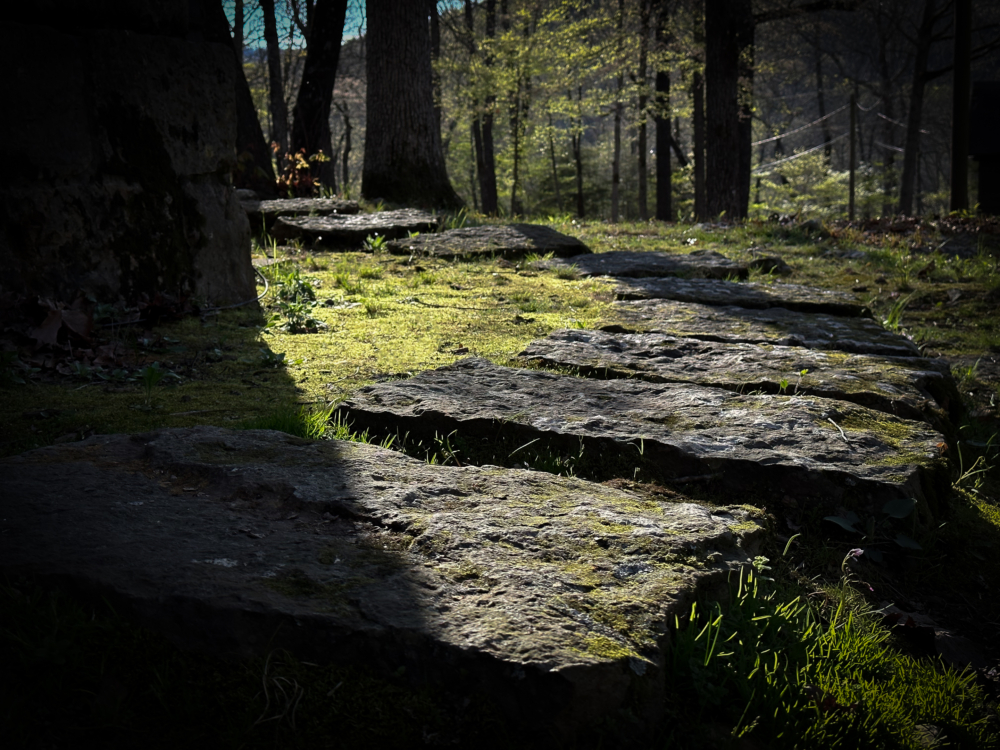 The CCC was responsible for building Devil's Den's roads, cabins, and other infrastructure. These structures, still in use today, include cabins, trails, a dam, and a shelter. The contributions of the CCC to building our state and national parks are often underestimated. I wonder if today, the government would take on such immense projects in the relatively short time they were completed.
Exploring Devil's Den Trail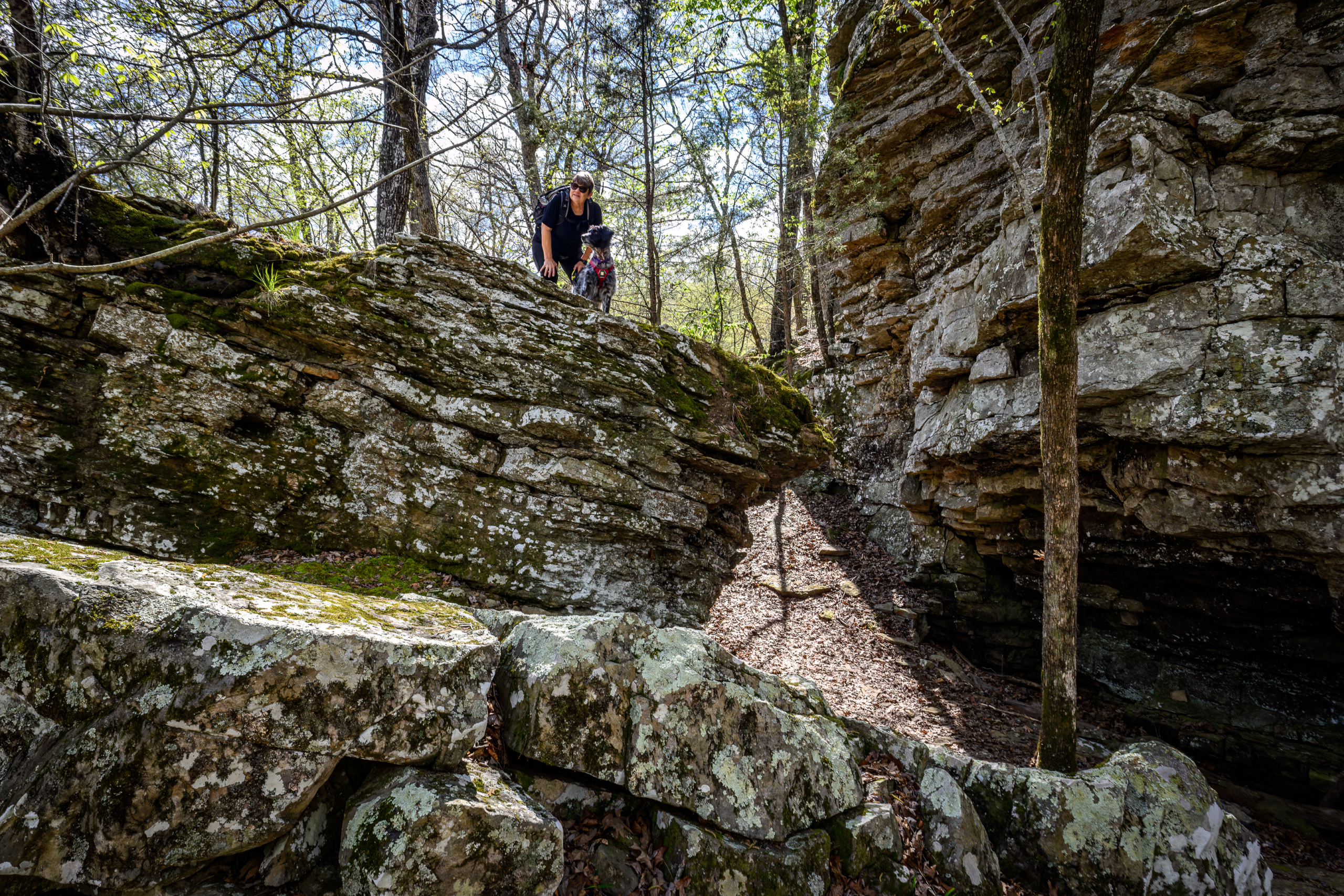 First up was hiking Devil's Den Trail. The easy trail offers a lot to see, including the rock outcroppings of the Devil's Den Theater (above) that are fun to explore.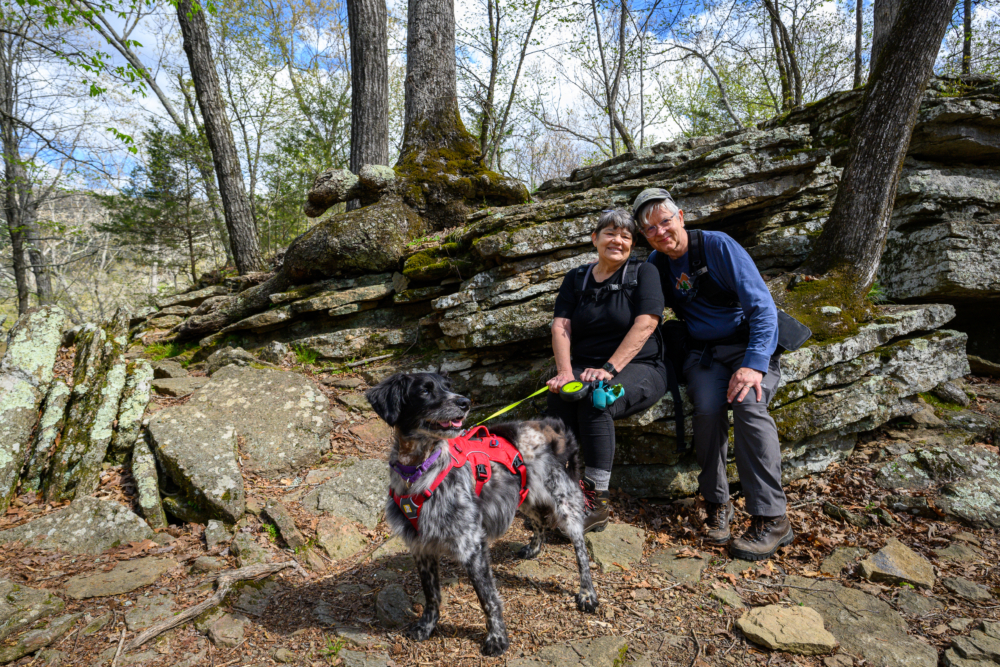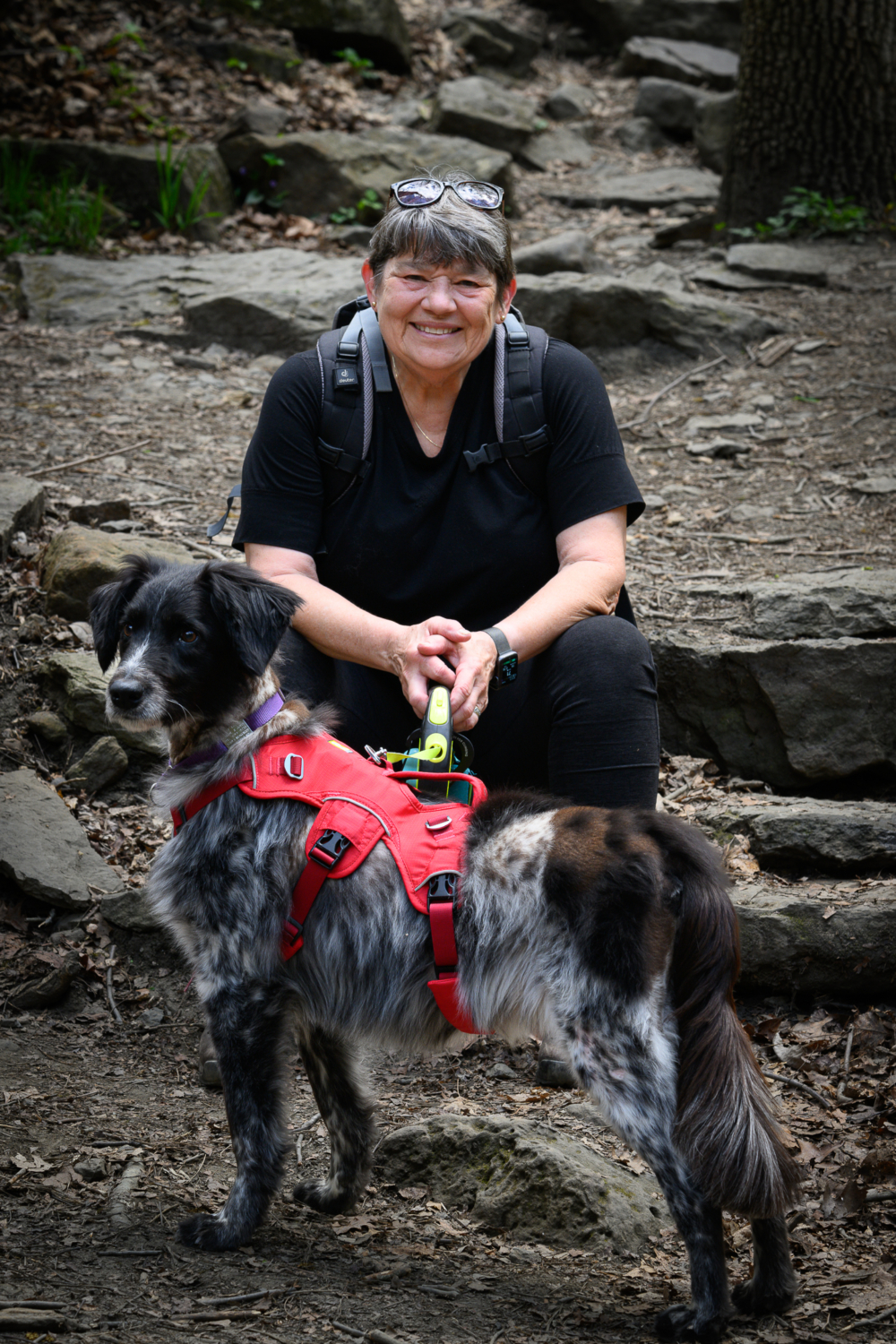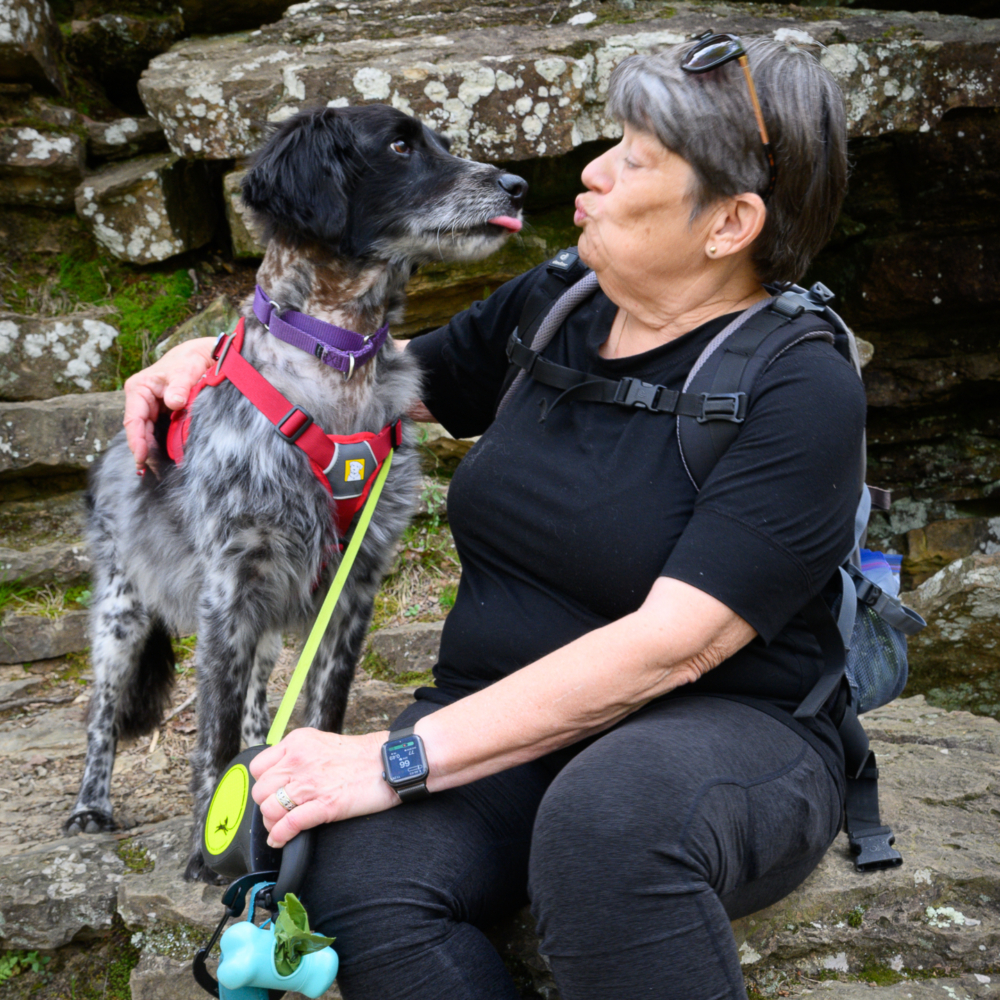 Later, the trail passes by Devil's Den Cave, Devil's Ice Box, crevices, and wet-weather waterfalls. The park contains one of the largest sandstone crevice areas in the U.S.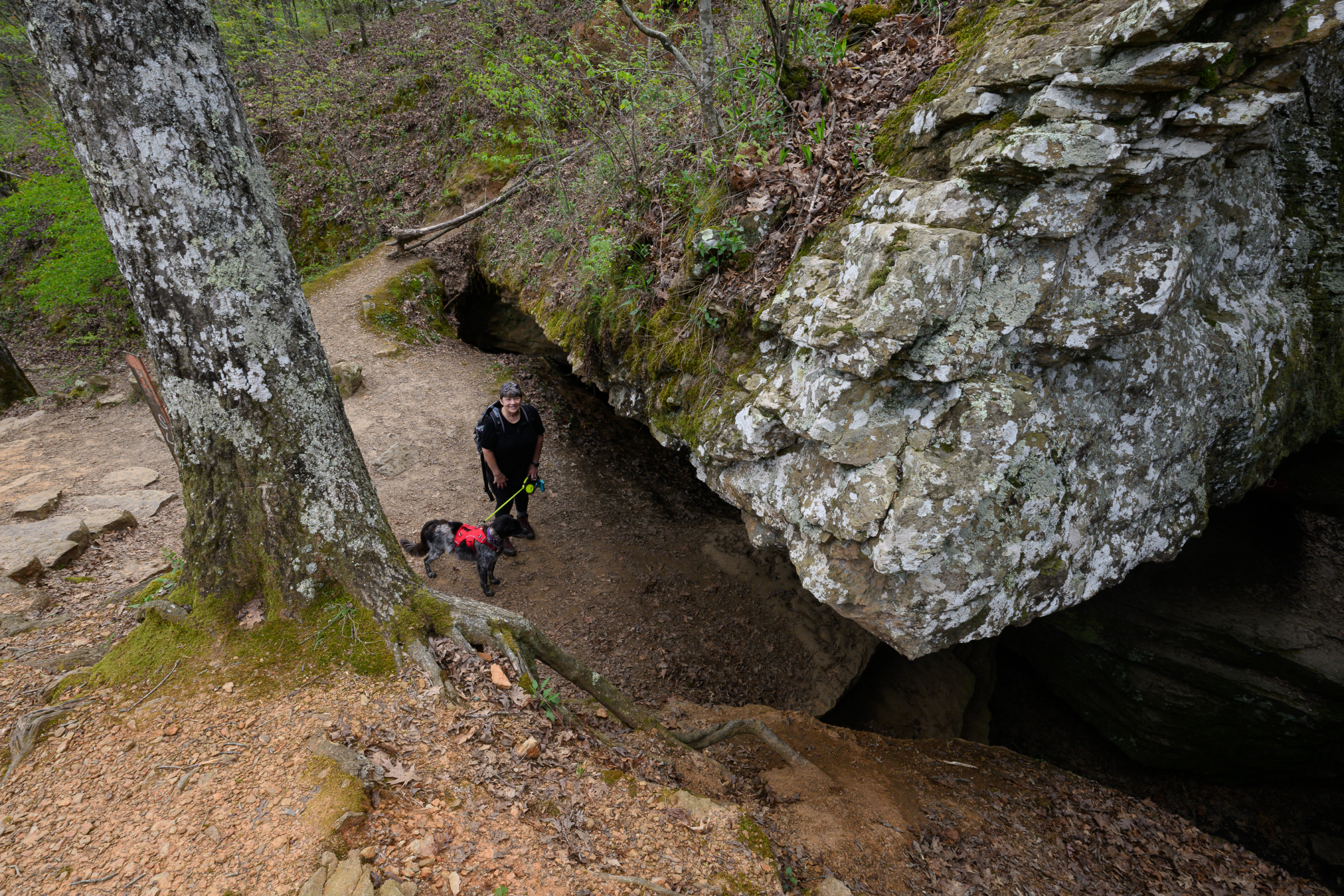 Twin Falls (below) is one of the highlights of the trail. It is a wet-weather waterfall. Unfortunately, there had been very little rain the previous week, so there wasn't much water cascading. Still, there was enough for me to capture a nice photo of the lower section of the falls next to a redbud and for Carol to capture some video of the upper falls.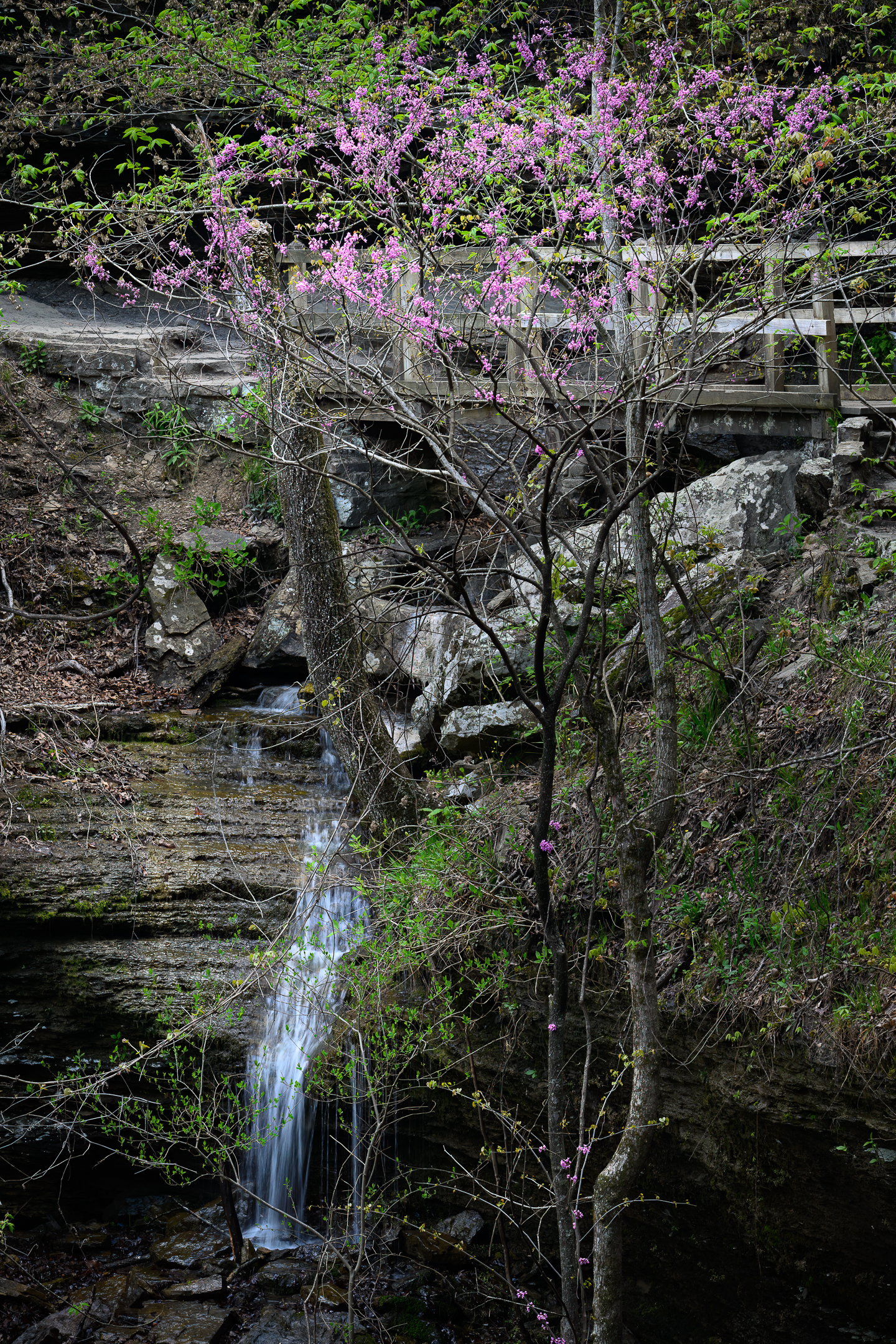 While the trail is short at 1.5 miles long, we took our time exploring the details of the surroundings. Some might have found it painfully slow, but we enjoyed taking our time exploring off-trail and taking photos.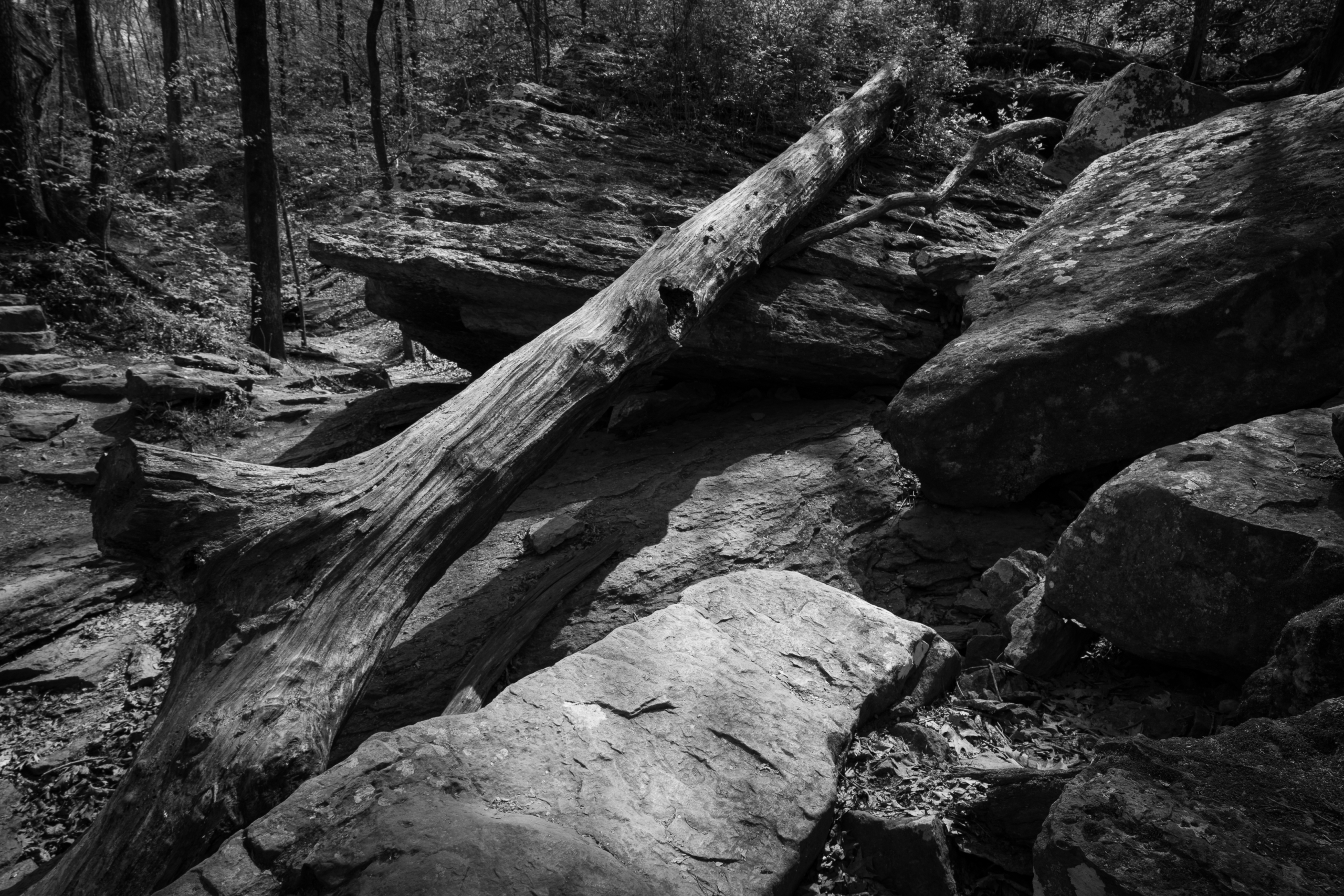 While I opted to play Ansel Adams with black-and-white photos,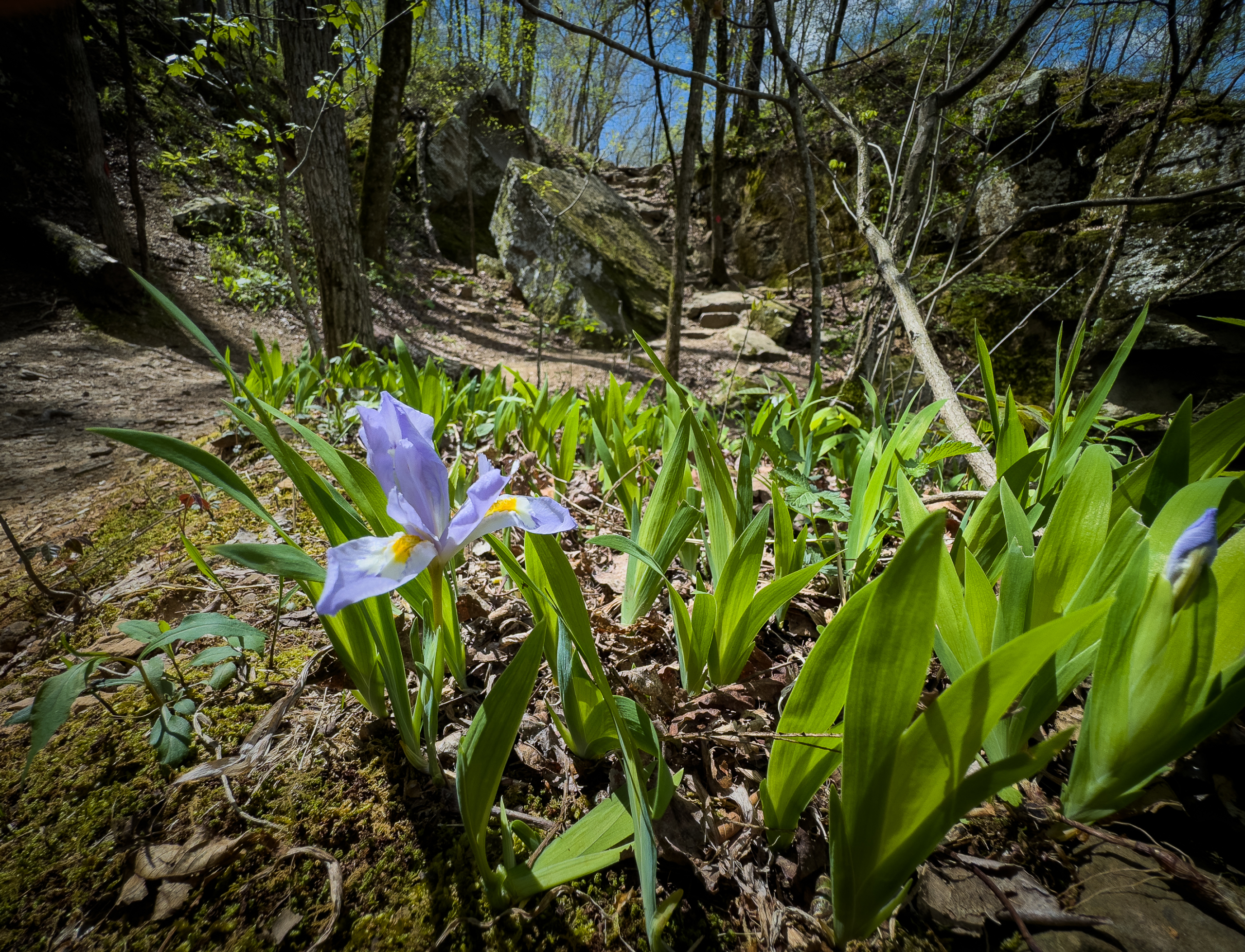 Carol went the Technicolor route and captured this nice spring-like photo of a crested iris.
Hammock time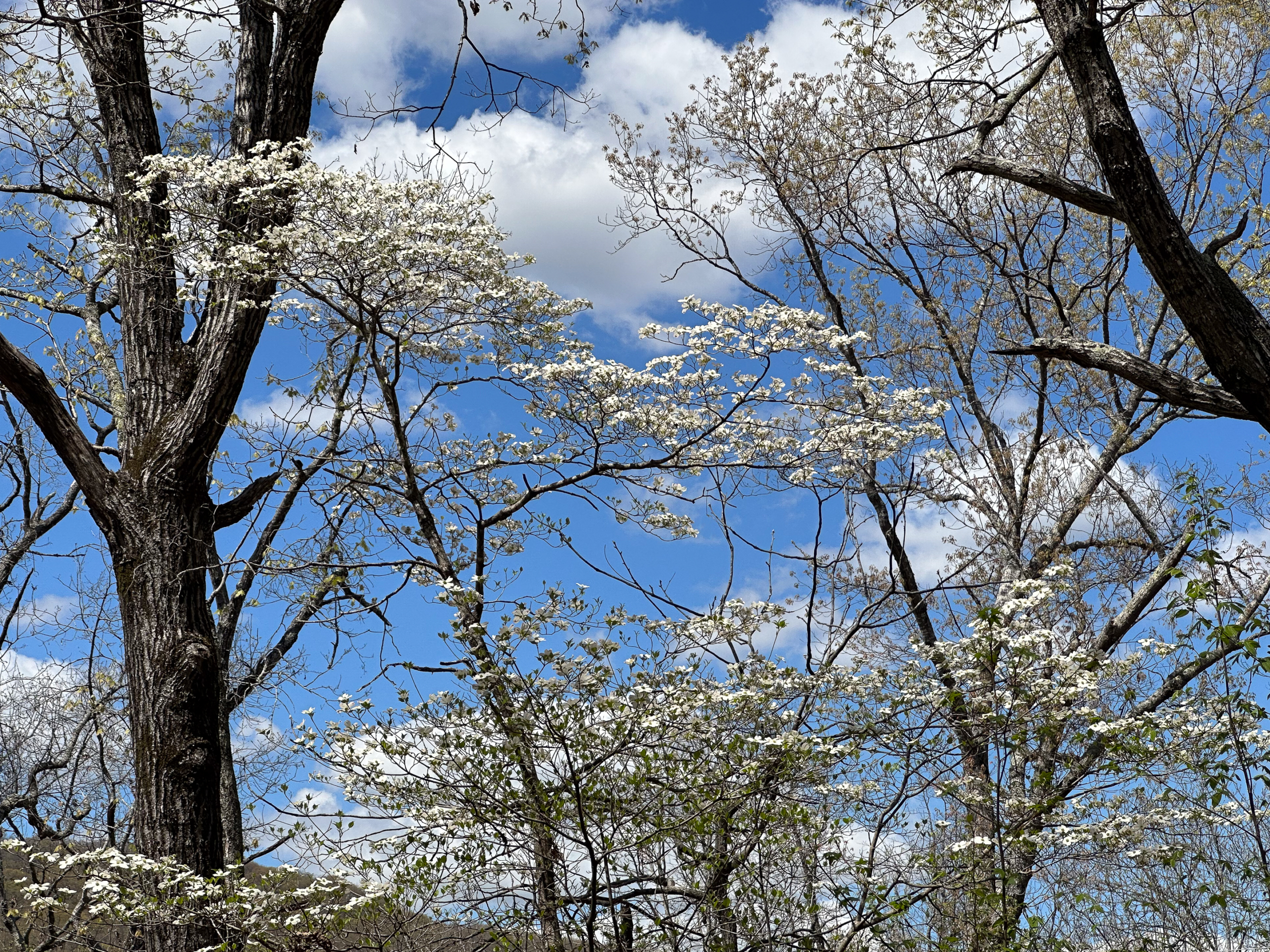 After all that hiking, it was hammock time back at the cabin. Hammock views don't get better than this view of dogwood blossoms (Cornus Florida) looking up from my hammock. Cool temperatures, warm sunshine, gentle breeze — simply perfect.
While Carol continued to read in her hammock, I eventually got restless and decided to photograph the wildflowers around the cabin.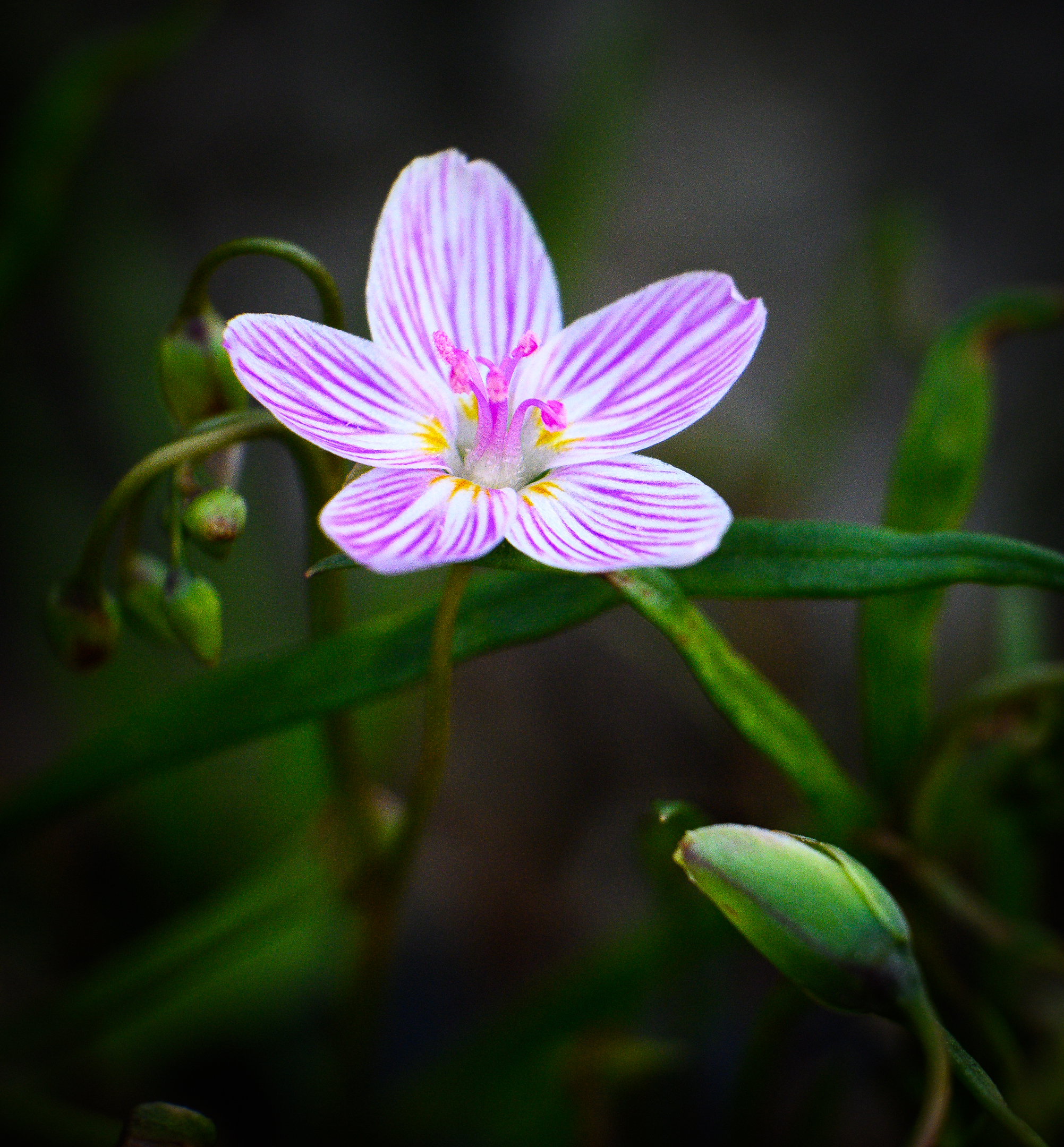 Our trip timing was perfect for viewing the spring wildflowers. I experimented with putting extension rings on a 400mm telephoto lens for a close-up view of Eastern spring beauty (Claytonia virginica). For reference, the flower is actually about the size of a dime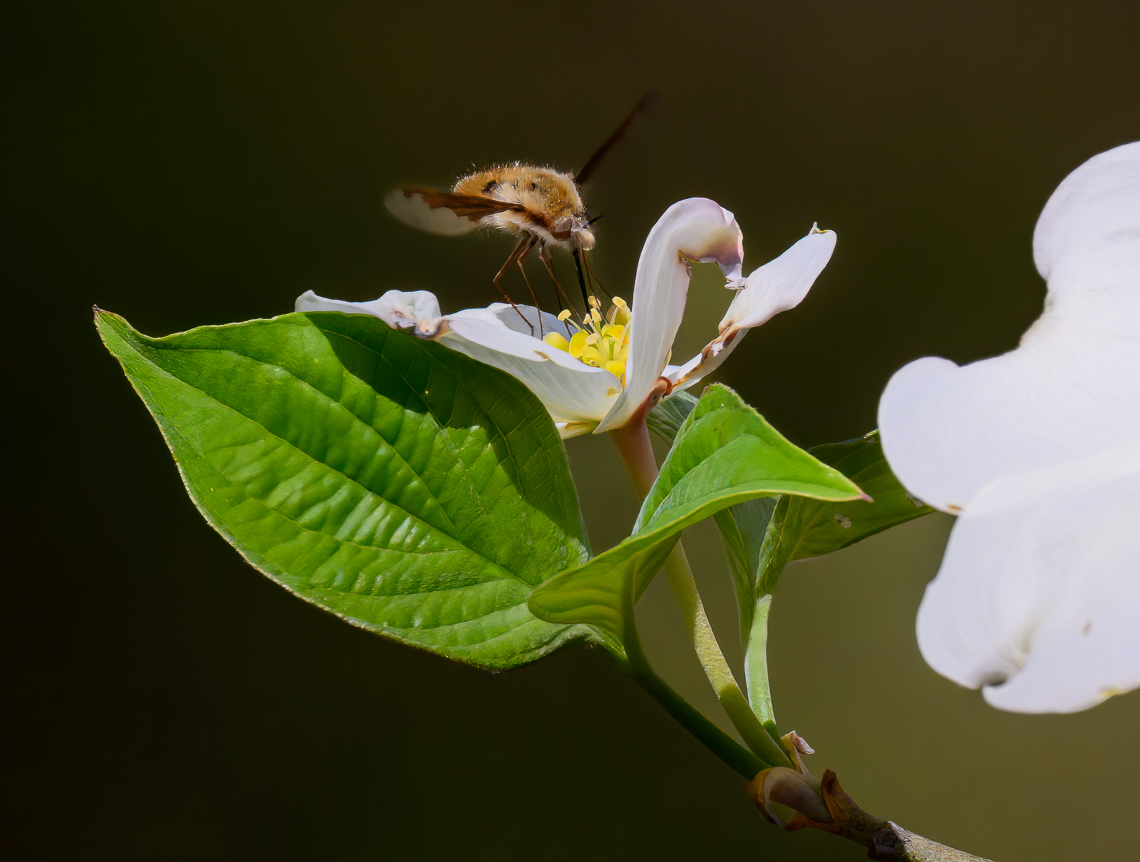 I also watched a large bee-fly (Bombylius major) take nectar from dogwood blossoms. The large bee-fly is a non-stinging parasitic bee mimic often mistaken for a bumblebee. This resemblance allows the large bee-fly to get close to the nests of bees and wasps where the large bee-fly will deposit its eggs. When the large bee-fly eggs hatch, the larvae feed on the bee and wasp grubs.
Evening at the cabin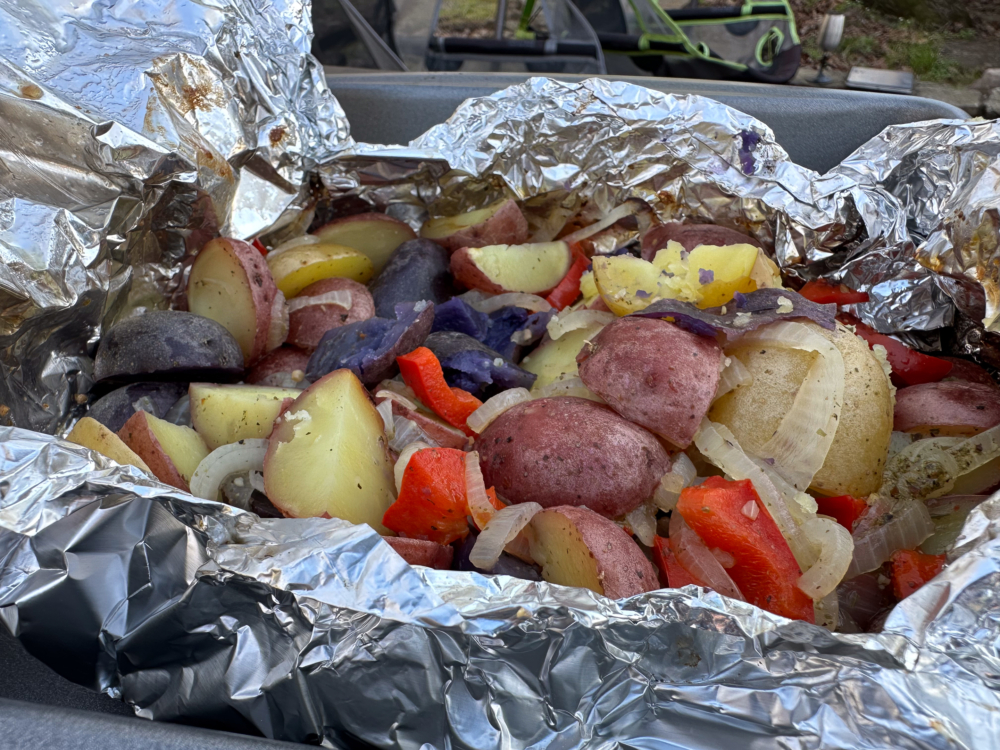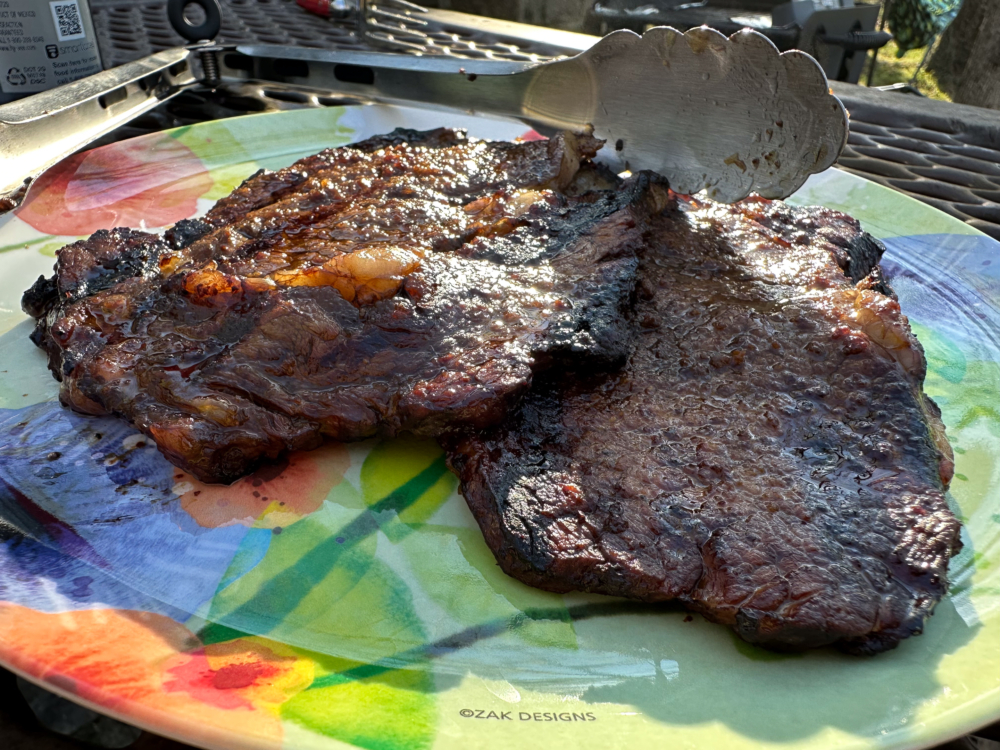 Despite all the hiking, particularly hiking with probably close to 24 pounds of camera equipment, I still manage to always gain weight on trips like this. I think you can see why below. Carol always manages to grill up yummy eats
More hiking – the Yellow Rock Trail
The following day, we hiked up the bluffs of the Yellow Rock Trail. Yellow Rock Trail is a three-mile loop that leads to Yellow Rock, a bluff that offers an expansive view of Lee Creek and its valley. The trail is one of the original CCC-constructed trails. There are two trailheads. One near Camping Area A and another from the Highway 170 Overlook. The overlook trailhead makes for an easier hike, but you'll miss seeing the bluff overhangs/rock shelters like below.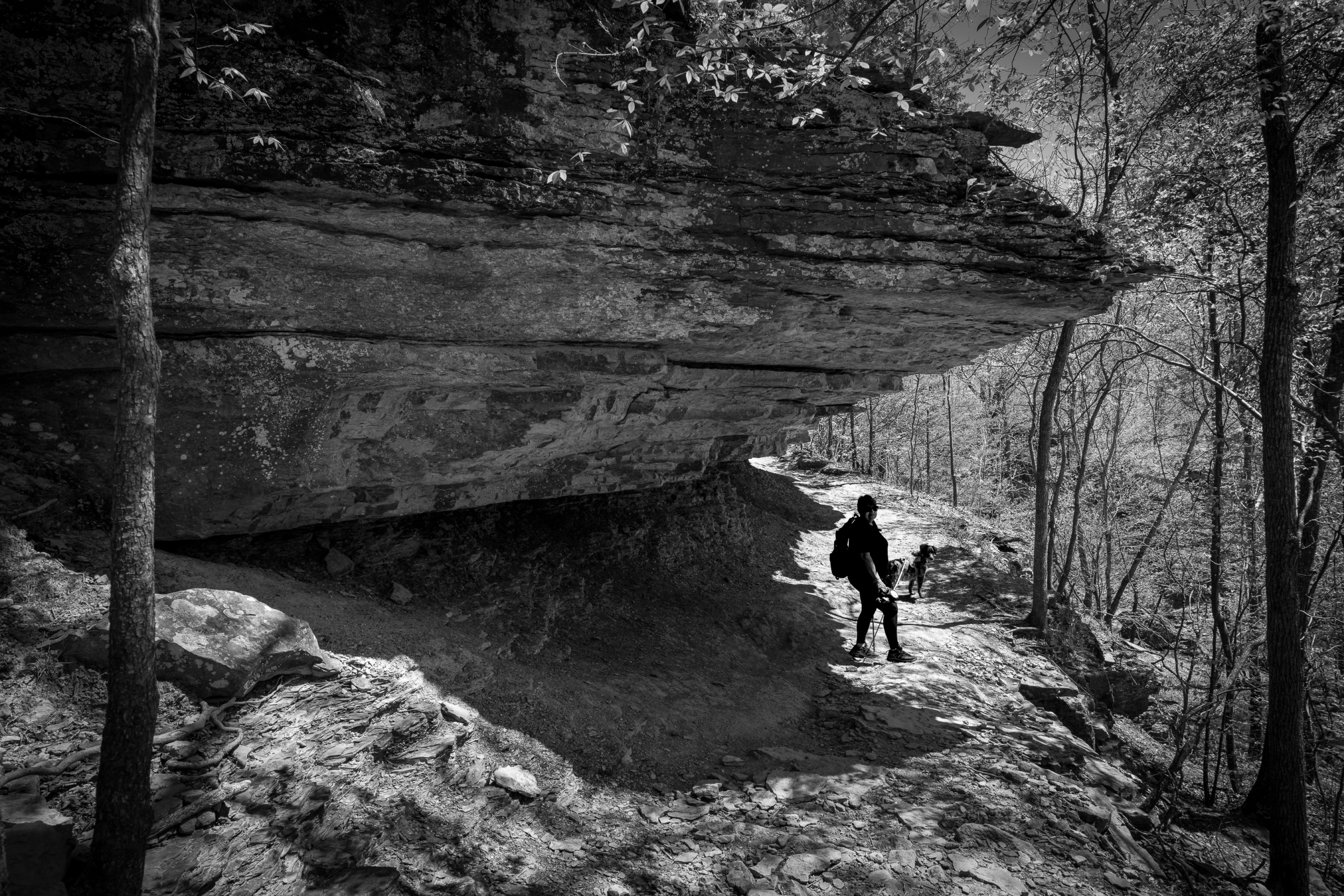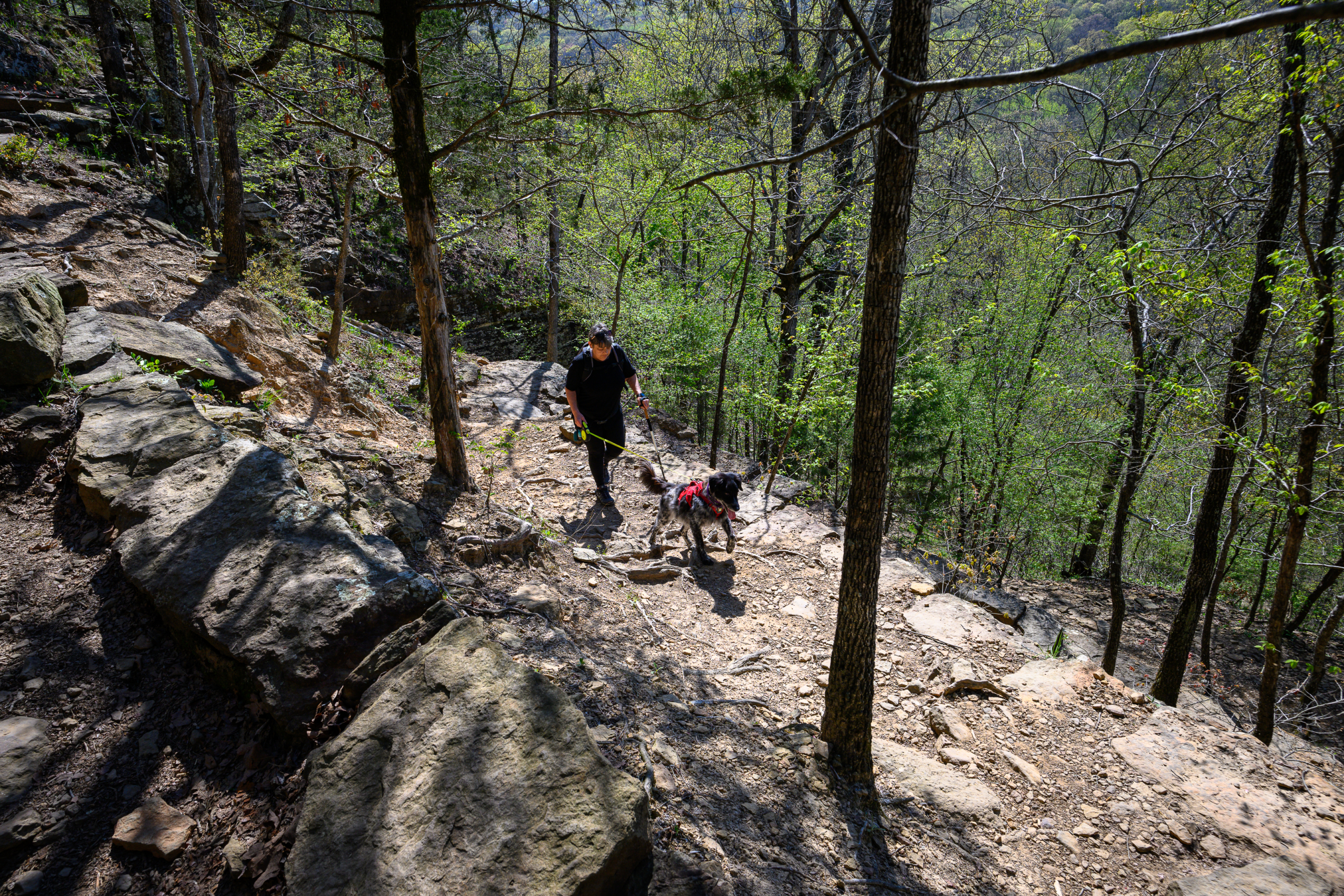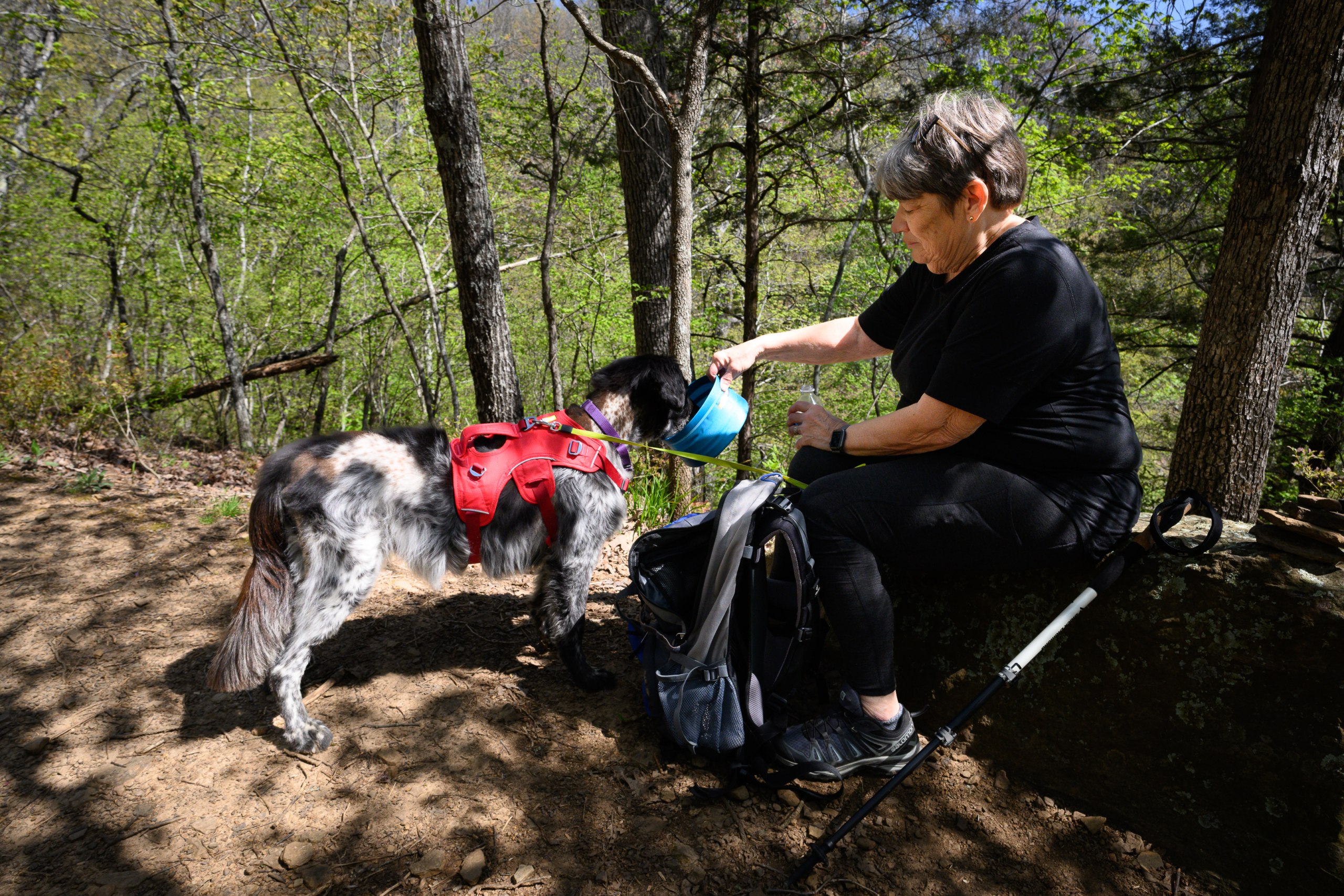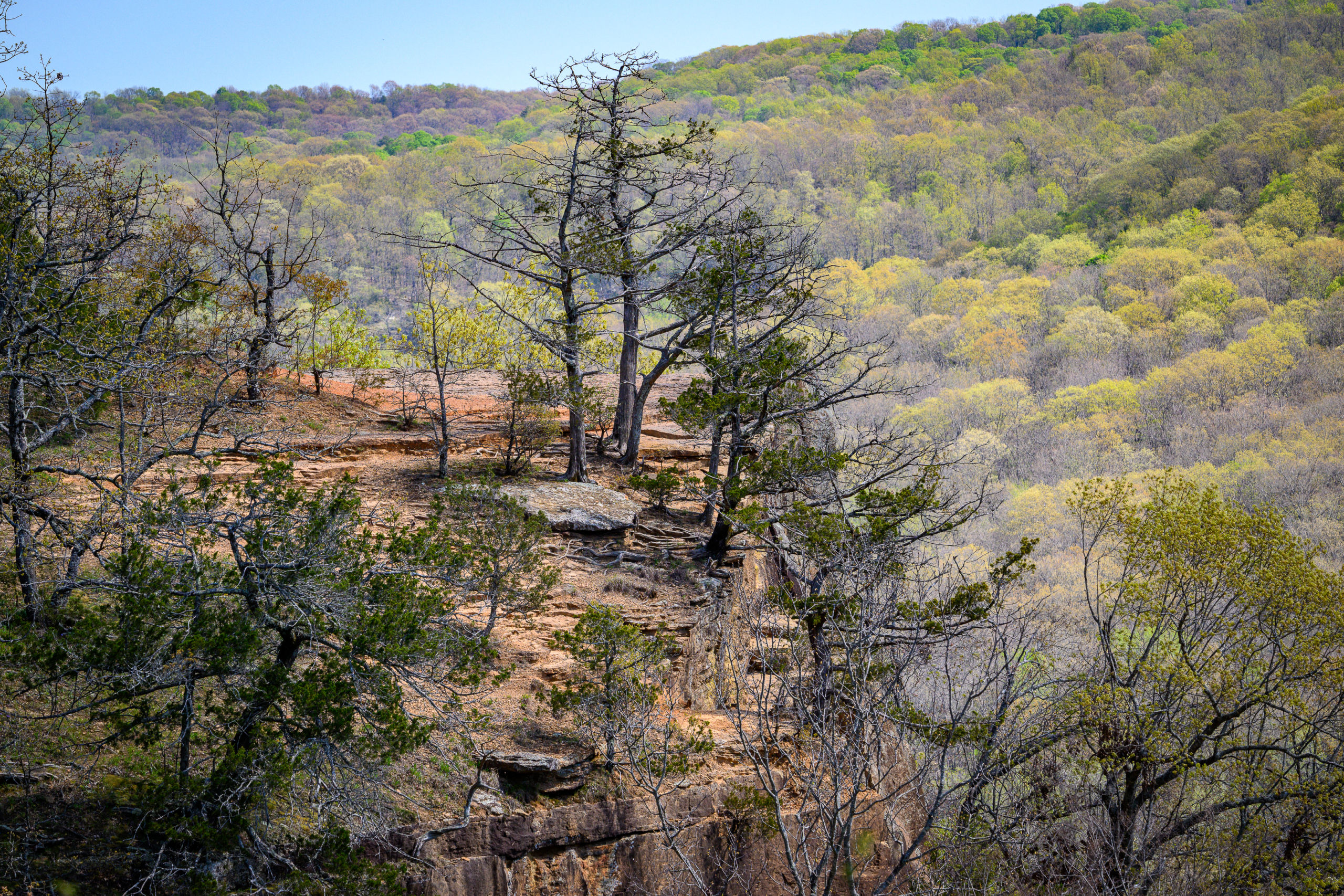 Yellow Rock, seen from the Yellow Rock Trail in Devil's Den State Park. The Yellow Rock Trail leads to this scenic overlook of the Lee Creek Valley. The Yellow Rock Trail is a CCC-constructed trail from the 1930s. It is also a designated part of the National Trails System. The main feature is the Yellow Rock, offering a scenic view of the Lee Creek Valley.
Mr. DeMille, I'm Ready for My Close Up
Since I know, in reality, all that anyone is going to care about are photos of Blue, here are a few extras from hanging around the cabin. Blue is ready to return.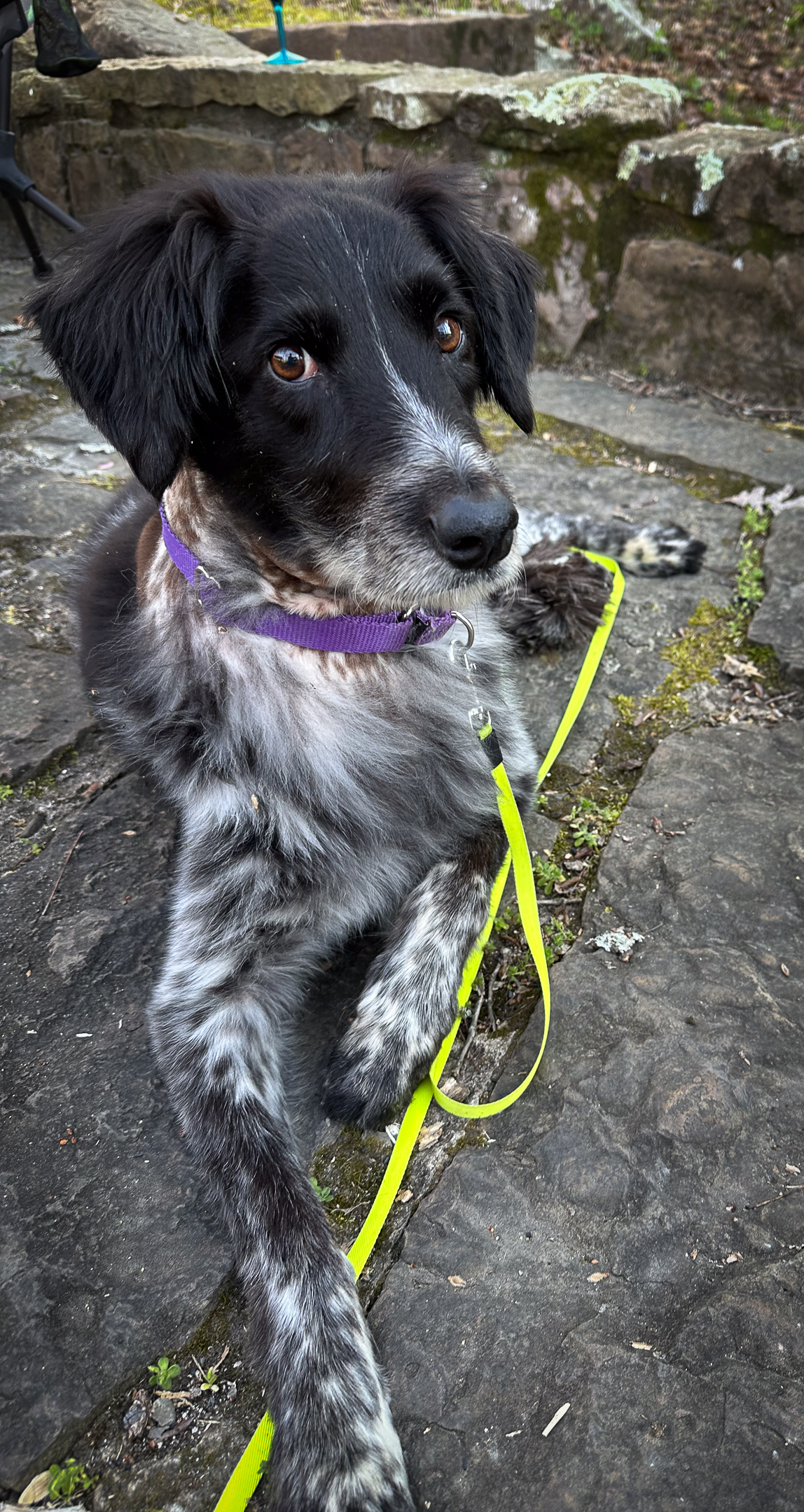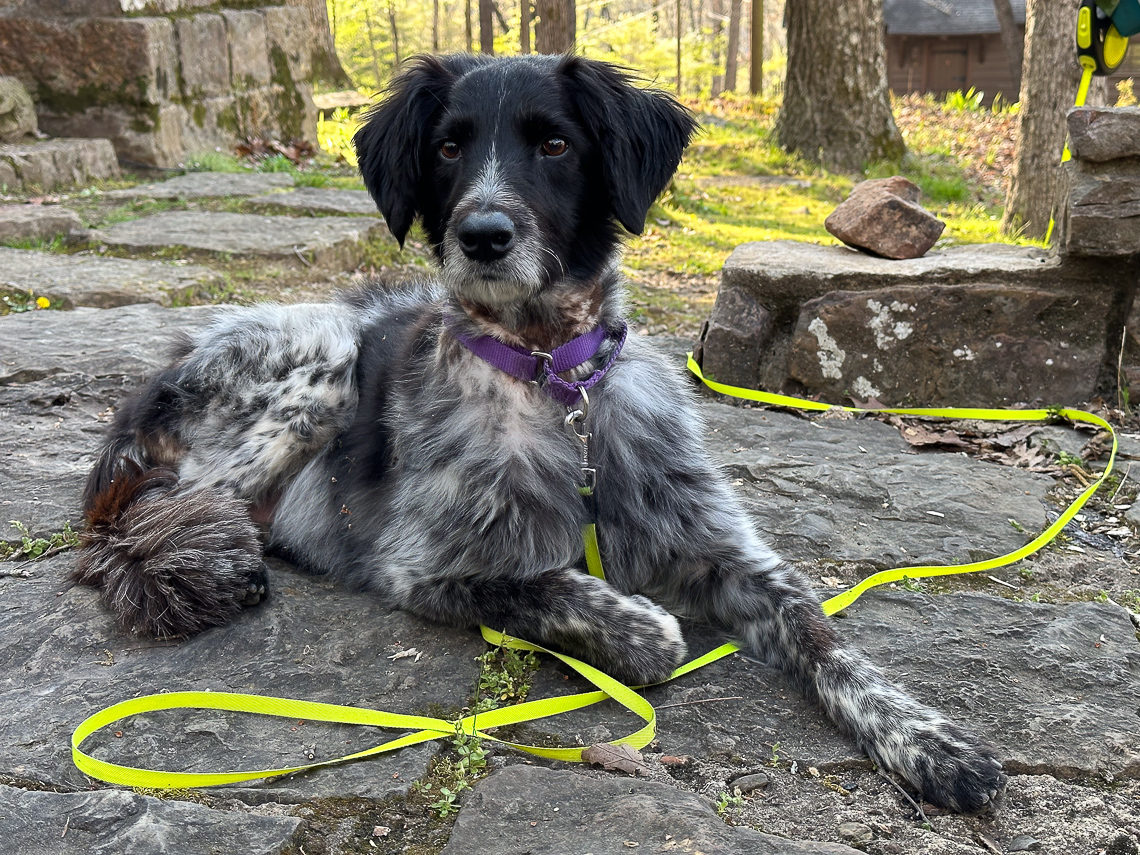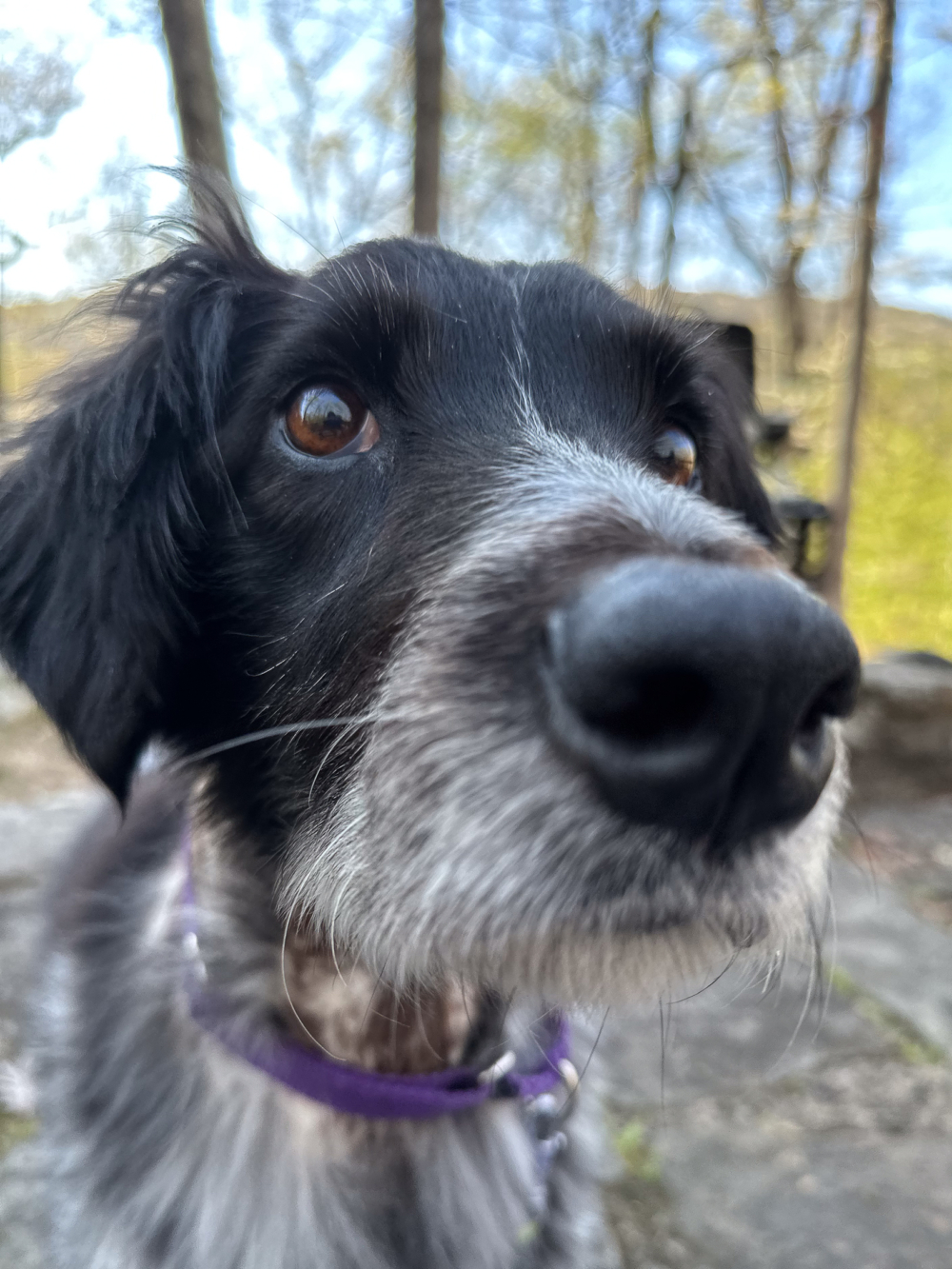 LINKS