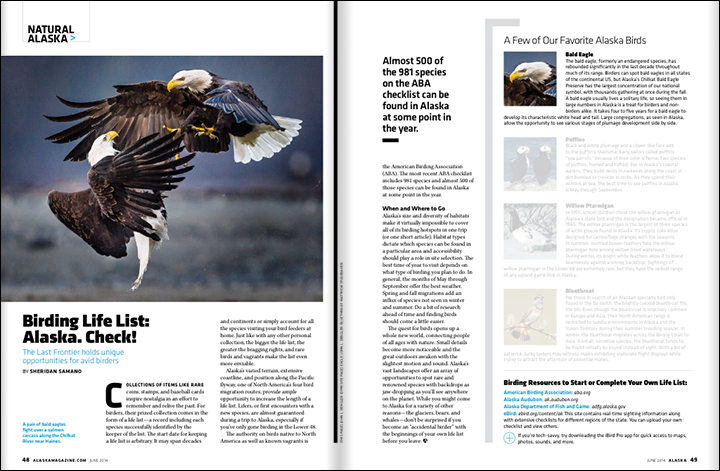 Alaska "The magazine of Life on the Last Frontier" has published one of my photographs — bald eagles fighting on the Chilkat River, near Haines, Alaska. The image of two bald eagles fighting appears with a story on bird watching in the June, 2014 issue of the magazine.
The photo was taken several years ago. I remember the morning well as several of my favorite bald eagle photos were taken that morning. It was one of those days where everything just came together perfectly. As with many of my bald eagle photos, I went with the lowest possible angle to isolate the eagles against a clean background.
Alaska magazine, features great photography and stories on the people, cultures, lifestyles, and natural wonders of the state. If you're ever trying to decide if you want to make a trip there, Alaska magazine will give you a good feel for what this great state and people are about. Once you have been there, it's a good way to keep updated on the places visited and for ideas for your next trip there. Yes, I said "next trip". Once you have been there you'll want to go again.
The magazine can often be found at many local newsstands. Electronic editions/subscriptions of Alaska magazine for the iPad can be found on the Apple iTunes App Store.
---
Be the first to know
'Like' the Dengler Images Facebook page
or follow my Twitter feed to know when I post iPhone reports from the field.