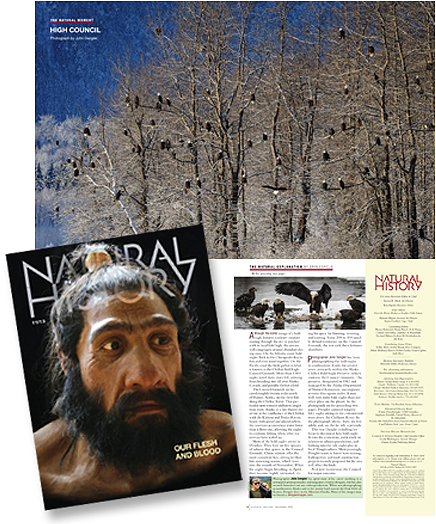 Images of bald eagles photographed by yours truly on the Chilkat River in Alaska have been published in the November 2013 edition of Natural History.
The magazine, founded in 1900, publishes stories on expeditions and research by curators at the American Museum of Natural History and other science and natural history museums. My favorite science guy, astrophysicist Neil deGrasse Tyson, writes occasionally for the magazine.
One of the two images published was an image of over 50 bald eagles sitting in the cottonwood trees along the Chilkat River. The magazine's art director, Steve Black presented that photo as a double page spread. The other photo was of group of eagles feeding on salmon. The images and short story by Erin Espelie about why the bald eagles come to the Chilkat appeared in the "Natural Moments" feature that appears in the front portion of the of the magazine. Erin's story also included information about me and the focus of the work that I have been doing in southeast Alaska.
The November 2013 issue of Natural History is available at Barnes & Noble stores now or as an in-app purchase for the iPad at the iTunes store .