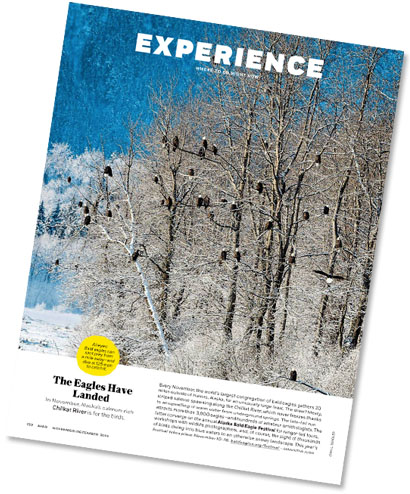 It's always fun to receive a magazine in the mail that has published your photos. That was the case with the November/December 2014 issue of AFAR magazine that arrived the other week. AFAR, "Where Travel Can Take You", is a high-end travel magazine edited for affluent travelers. According to AFAR's website, the magazine reaches an audience of 1 million readers.
My image of a large group of bald eagles roosting in the trees along on Chilkat River is featured on the closing, back page of the magazine as the "Experience – Right Now" feature.
It's appropriate that the magazine published the photo for this issue. November and December are prime months for seeing the annual congregation of bald eagles along the Chilkat River in the Alaska Chilkat Bald Eagle Preserve. I shot this particular photo several years ago in November. The Alaska Chilkat Bald Eagle Preserve near Haines, Alaska is the location of one of the largest gatherings of bald eagles in the world each fall. In this photo (as the AFAR editors cropped), 37 bald eagles can be seen in the cottonwood trees along the Chilkat River at the confluence with the Tsirku River. The actual uncropped image continues further to the right to shows another 20 more bald eagles.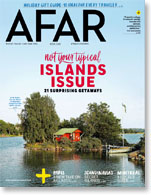 Look for this issue of AFAR magazine at your local bookstore/newsstand or in digital format at Zinio.com.
---
Be the first to know
'Like' the Dengler Images Facebook page
or follow my Twitter feed to know when I post iPhone reports from the field.