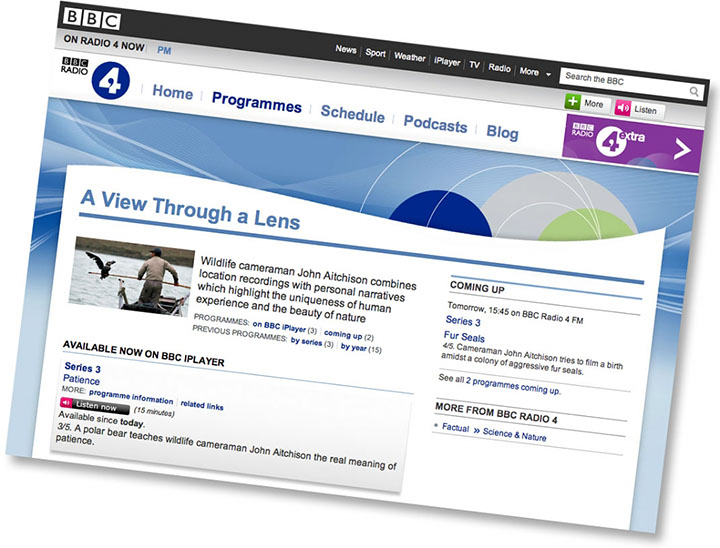 Wildlife and nature lovers will love the behind the scenes audio reports from Emmy award winning wildlife cinematographer John Aitchison now playing on the BBC Radio 4 website. I met John last November on the banks of the Chilkat River in Alaska where we both were photographing one of the largest gatherings of bald eagles in the world. If you have watched any nature programming on PBS, BBC, Discovery Channel, etc. chances are you have seen his work.
John is a gentle, but very determined and passionate wildlife photographer. Wildlife photography isn't just about taking a photograph, but observing. After seeing John at work in the field, I can say that he takes observational skills to a high level — something that is apparent when you listen to his radio series, and when you view his Emmy award winning cinematography.
Listening to an audio report about the experiences of a wildlife photographer sounds like an oxymoron but John's audio reports are incredibly rich in detail — so much so, you feel like you are alongside him in his "hide" (or blind as we say in the U.S.).
Don't delay listening to his series of five 15-minute reports, "A View Through a Lens." The BBC only keeps them archived online for one week from when they originally were broadcast. If you want to listen to the reports live, they are broadcast on at 15:45 GMT (9:45 a.m. CDT) on BBC Radio 4. (UPDATE: All live episodes in Series 3 have been broadcast).
A View Through a Lens
Wildlife cameraman John Aitchison often finds himself in isolated and even dangerous locations across the globe filming wildlife. In this series he reflects on the uniqueness of human experience, the beauty of nature, the fragility of life and the connections which unite society and nature across the globe.

The BBC's "A View Through a Lens" radio series website: http://www.bbc.co.uk/programmes/b00tnm09
---
John Aitchison's website: http://www.johnaitchison.net/